Posted under:
General
Posted on: April 12, 2023
Affordable Smile Makeover Options in Connecticut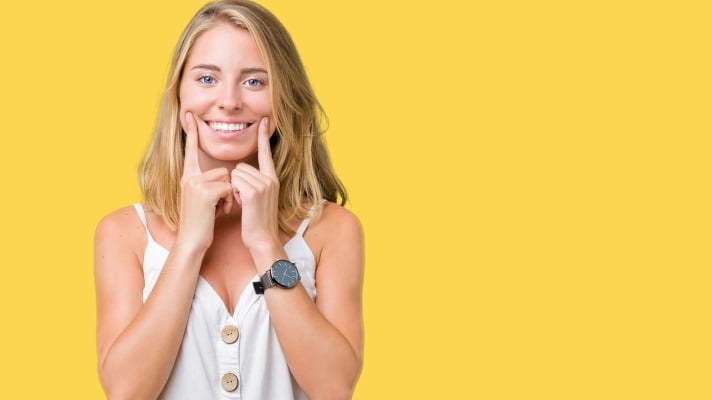 The dentists at Premier Dental of Connecticut can provide you with a complete smile makeover that starts with whiter and brighter teeth and a more beautiful smile. We can provide you with dental whitening treatments in our office or take-home kits that will allow you to show off those pearly whites with pride. We also offer dentures and dental implants to fill in gaps in your teeth or to replace missing teeth quickly and effectively. Our team can also perform dental bonding procedures that will correct minor imperfections in your teeth. We can design and apply dental veneers to fit over your teeth and mask any problems with discolorations or minor chips and gaps quickly and effectively. If you are looking for practical options that will enhance your smile, our team can provide you with a total smile makeover in Connecticut.
Why Invest in a Smile Makeover?
There are many reasons to consider investing in a smile makeover in Connecticut. The dentists and administrative professionals at Premier Dental of Connecticut will design a plan that is precisely right for you and that addresses your key concerns about your appearance. Some of the best reasons to plan a smile makeover are listed here:
Improved self-esteem: Working on your appearance can often allow you to feel better about yourself. This can translate into improved interactions with others.
Enhanced appearance: When you look better, you often feel better. A smile makeover is a great way to improve your appearance and to allow you to feel your very best every day.
Greater confidence: Worry or embarrassment over missing teeth, discolored or yellowing teeth, or small imperfections in your smile can sometimes affect your confidence when meeting new people or interacting with those you know. Resolving these issues with a little help from the dentists at Premier Dental of Connecticut can allow you to feel more confident when taking on the challenges of everyday life.
Added functionality: Especially for patients who have missing teeth or severely decayed teeth, a dental makeover can improve bite quality and can restore the function of teeth that are missing or too damaged to use effectively.
At Premier Dental of Connecticut, our team will assess the current condition of your teeth and will recommend the right services to resolve any problems with the appearance of your smile or the function of your teeth. We specialize in providing the professional care you need to look and feel your best.
Teeth Whitening Services
A key element in your smile makeover will be whitening your teeth and restoring the brilliance of your smile. The dental hygienists and dentists at Premier Dental of Connecticut can provide teeth cleanings that will remove plaque and tartar to leave your teeth looking and feeling fresh and clean. For even more help in improving the appearance of your teeth, our dentists offer dental whitening options that include treatments in our office as well as take-home kits. Our teeth whitening services offer fast results and more dramatic improvements in the whiteness of your teeth compared with over-the-counter options.
Dental Bonding Options and Veneers
For teeth that have chips or other minor imperfections, dental bonding is an affordable option that can cover up these issues effectively. Severely stained or discolored teeth can also benefit from dental bonding treatments. If you choose this treatment option, your dentist will match a dental resin to the natural color of your teeth and apply it to the front and side surfaces of the affected teeth. This usually takes only one appointment and can enhance the appearance of your teeth to a considerable degree.
Dental veneers are individually fabricated and consist of thin layers of porcelain or composite material that are custom fitted to individual teeth. These smile makeover solutions are more expensive and more time-consuming than dental bonding. They often provide a more natural look that can enhance your appearance which has made dental veneers a popular option for our patients in Connecticut.
Dental Implants
Dental implants are designed to create secure attachment points for other dental appliances. By implanting a titanium post into the bone of the jaw, your dentist will create an artificial root that can support a single tooth or multiple artificial teeth. Replacing missing teeth can help you to avoid embarrassment about your appearance and can allow you to smile with greater confidence. Implants are an excellent way to secure dental appliances that can fill in the gaps in your smile and provide you with added confidence when interacting with others.
Dentures and Bridges
Dentures and bridges are often more affordable options for restoring missing teeth than implants. These removable or permanently affixed dental appliances can replace an entire row of teeth or a single tooth. Bridges are attached to adjacent teeth. Dentures, by contrast, are either attached to dental implants or held in place by dental adhesive.
Finding Cost-effective Options for Smile Makeovers
Most cosmetic procedures are not covered by dental insurance. At Premier Dental of Connecticut, we will work with your dental plan to find the best options for your budget and your needs. We can even offer payment plans for qualified patients and will work to keep your care as affordable as possible. If you are looking for a smile makeover, our dentists are here to help when you need us most.
At Premier Dental of Connecticut, our cosmetic dentistry team can provide customized solutions to help you manage all types of issues with the appearance of your teeth. We work with you to find the best options for your financial situation as well as your smile. Call us at to schedule a consultation for a smile makeover in the Connecticut area. We are here to help you look and feel your best now and into the future.