Posted under:
General
Posted on: November 24, 2020
Invisalign: Frequently Asked Questions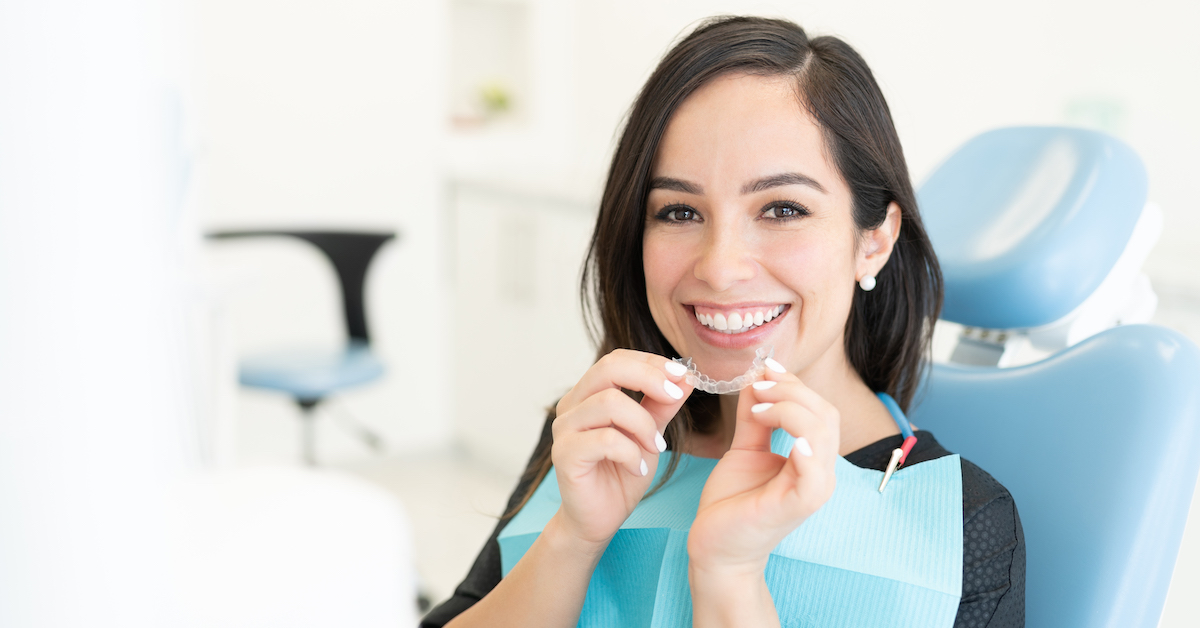 Our dentists offer practical help for patients who may be embarrassed or worried about misaligned teeth. Crooked teeth can affect the appearance of your smile and can have a seriously negative effect on your self-confidence, especially around people you do not know well. However, the metallic appearance of traditional braces is a strong deterrent for some people in obtaining the help they need to straighten their teeth.
Invisalign is a practical way to resolve minor to moderate misalignments of your teeth without the wire and brackets used in traditional braces. Instead, this innovative orthodontic system offers near-invisible correction for crooked teeth. By choosing Invisalign, you can reap the benefits of straighter teeth without worries about metal braces and their effect on your appearance.
What Are Invisalign Straightening Trays?
Unlike traditional orthodontic braces that consist of wires and brackets, Invisalign uses a flexible plastic material called SmartTrack to move your teeth back into the right position. The Invisalign system is made up of a series of aligner trays that are to be used in order to create gradual changes in the positions of your teeth. Because SmartTrack is transparent, it can provide an almost invisible solution for patients with crooked teeth who are concerned about the effect that traditional braces could have on their appearance.
Is Invisalign Right for You?
Invisalign is usually somewhat more expensive than comparable traditional braces. For individuals who are concerned about cost, this can be a good reason to opt for other orthodontic methods to address crooked teeth.
Invisalign is not recommended for children whose teeth are still in the process of growing. Changes in the shape or size of teeth that can occur during these formative years can affect the fit of Invisalign and could result in wasted money and time in correcting their misalignment. For these children, traditional braces represent a more cost-effective solution for correcting crooked teeth.
Patients who are not willing to wear the Invisalign system for at least 20 hours of the day are also not good candidates for these orthodontic treatments. Our dentists recommend wearing Invisalign for 20 to 22 hours each day to achieve the best results.
Severe misalignments of your teeth can also prevent you from receiving the full benefits of Invisalign. The Invisalign system is designed to provide mild to moderate realignment for teeth and is not well-suited to more severe cases of crooked teeth.
Our dental team will work with you to determine the best and most appropriate option for your needs. If cost is a factor in your decision, we can offer payment options that can make the Invisalign system more affordable for you and your family.
What Steps Are Involved in the Invisalign Process?
The process for Invisalign treatments consists of a few basic steps that must be completed to achieve the desired results for you or your family member and to ensure that your smile is as attractive as possible.
You will need to schedule a consultation with our dental team to determine whether Invisalign is an appropriate choice for you. Our dental and orthodontic services team will discuss your goals and your likely results with you. At this time, we may also perform an initial examination of your teeth to determine whether Invisalign could work for you.
After you have decided on Invisalign, our dentists will take impressions of your teeth. This is accomplished by placing a mold around your upper and lower teeth and having you bite down. In some cases, this is also completed digitally. Once these molds have been completed, we will arrange for your Invisalign aligners to be fabricated to the specific shape, size and configuration of your teeth.
When the Invisalign aligners arrive at our office, we will schedule an appointment to show you how to use them and to make sure they fit properly. The Invisalign system consists of multiple aligners that must be used in a specific order to achieve the desired realignment of your teeth. The first aligner tray will move your teeth slightly closer to the position they need to reach. The second and all subsequent aligners build on the progress achieved by previous aligners to straighten your teeth gradually over time.
After the initial stages of your treatment, you will usually visit our office once every month or every six weeks to check on the progress of your treatment. Most patients move up to the next aligner in their sequence on a two-week cycle. We will check regularly to make sure that your teeth straightening process is moving along as it should.
Is Invisalign Going to Affect My Daily Activities?
You can usually go on with your normal routine while undergoing Invisalign therapy for crooked teeth. The aligners must be removed when you eat, drink and perform regular dental hygiene tasks like brushing your teeth and flossing. At all other times, you can keep the Invisalign aligners in place to continue guiding your teeth to the correct position. Invisalign should be worn while you sleep to continue the realignment process for your teeth.
What Happens After the Invisalign Process Is Complete?
Most of our patients complete the Invisalign treatment plan successfully and transition to life without orthodontic appliances. In some cases, however, your dentist may recommend that you wear a retainer on a part-time or temporary basis. This will help to keep your teeth aligned and your smile attractive after your Invisalign treatment is complete.
How Can Our Local Dental Professionals Help You Achieve Straighter Teeth With Invisalign?
At our dental practice, we offer practical support for dealing with all types of dental issues. We can provide crowns, fillings and many other solutions that can help keep your teeth healthy and your smile as brilliant and beautiful as possible. If you are interested in exploring your orthodontic options or managing other aspects of your dental care, give us a call today to schedule your initial appointment with us. We look forward to the opportunity to work with you and your family.